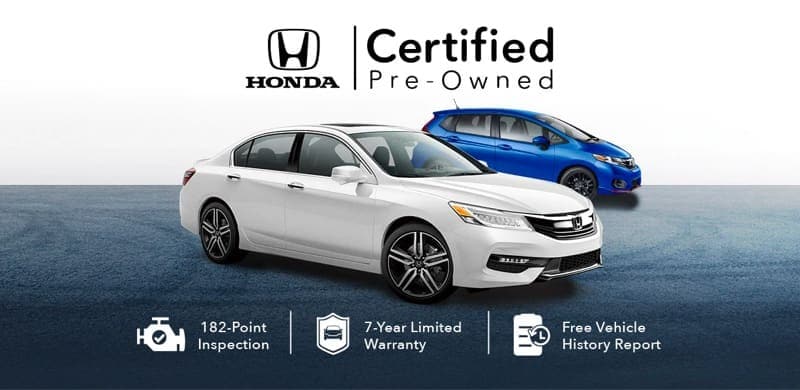 Certified Pre-Owned
Nothing compares to the quality of a Honda. No other program comes close.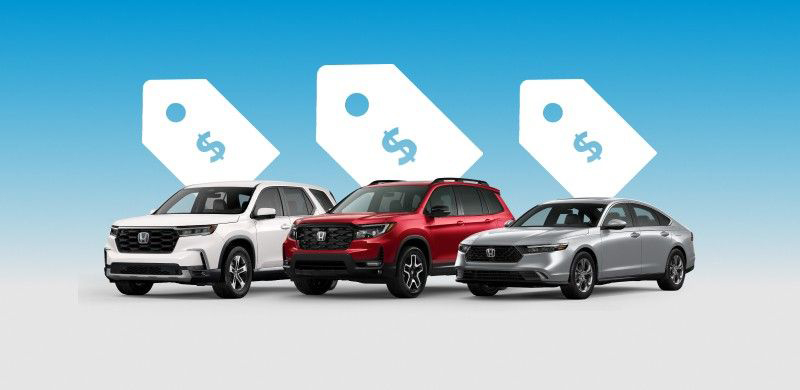 Current Offers
See this month's featured current offers going on now on new Honda vehicles.
Our Reviews
Atif and Karl Lewis did good job of helping me out!
My first Honda experience and its been great. Ive generally been a truck girl, but I decided on an economical option since gas prices have gone up so much. I purchased a Civic here. It was smooth and painless! And... the coffee bar!! Service and parts have been great to work with as well. Joseph (sales), Carlos (accessories) and Jay (service) are amazing!!
I want to give Anthony Raglin, Gregory Powell & Don Dahlstrom a big thank you for making every step of my wife and I's lease process easy going and fun. The Honda team really left an impression on me and I'll be sending my friends and family for years to come to First Texas Honda. Thank you guys again !
Brought in my CRV to have it diagnosed and some other maintenance done. Chris was my service advisor and kept me up to date and would almost instantly get back to my text messages with any questions that I had. The charges were very fair and less than if I had taken it anywhere else. Great experience.
I visit First Texas Honda today 11/19/2022 for an oil change and have been servered by Mr. Steven Deckert. Steven was a super nice person. His service was exceptional and his friendly attitude to customer was best of the best. I was glad to be served by a nice person like Steven. First Texas Honda was lucky to hire an excellent employee like Steven because I am sure that with his exceptional service and his super nice personality will make every one who were served by him happy and will come back. Thank you Mr. Steven for your excellent service. (This is Quan)
Steven was having a busy Monday. Still managed to handle my needs with professionalism. I just moved to Austin, needed a new battery. I'll be a future customer again. Thanks.
I have been coming here for years and I have always received amazing service and the staff is always super friendly and helpful. My favorite advisor is Ivan Heredia everytime I scheduled an appointment it has to be with him. He really takes care of my car and tells me everything that needs to be fix. Today I went for an oil change and I am always satisfied when they return my car to me. HONDA really cares for their costumers and I love love this company I am always looking forward to get cars from them.They are just the best company cars.
Dylan Payne is an amazing service advisor at First Texas Honda. Definitely recommend him. I needed regular multipoint inspection of my Honda Accord and oil change. He helped me out with it and walked me through any other issues with my car. Friendly and professional!
Awesome customer service Dylan was extremely helpful with addressing my concerns and issues regarding my vehicle. He made certain to keep me informed throughout the process!
Review of Service Provider: Ty I had an awesome experience with Ty. I think what every customer is looking for when they go to get their car service is honesty. Ty was very honest with the assessment of my vehicle and you could tell it was very genuine. For that reason, I felt like I could trust his guidance and expertise more than anyone I had previously worked with in the service department. I would recommend anyone to work with Ty in the service department. I think he's someone who goes above and beyond for his customers and is very personable.
Bought a new Hyundai sonata from First Texas Honda, excellent service, hassle free buying experience! I highly recommend asking for Joseph An, he's an amazing salesman and even went above and beyond to come in on his day off to take care of me!
I started coming here when we first moved to Austin, and even though since we've moved about 40 minutes away, I still make the drive just to make sure this is the location where I get my car taken care of. The quality of work and customer service here is exceptional. EXCEPTIONAL. Ivan in particular has always been my main point of contact at this location, and is the primary reason I make this drive. The man is incredibly kind, fun, knowledgeable, professional, and at this point I genuinely consider him a friend. It's so rare to have that "small business" feeling of care when dealing with bigger corporations but people like Ivan and the other employees here pull it off in spades. On the car side of things, the thoroughness they put into maintenance and maintaining your vehicle is incredible. They're so on top of what's happened, what's going on, and what could happen, I always feel prepared months in advance for the best ways the car will need to be taken care of. On top of that, my car hasn't had a "problem" or unexpected issue since coming here, and it's getting closer to that 100,000 mile mark. I've gone from someone who liked Honda, to someone who will probably make them the primary make of car I buy going forward. That is in no small part thanks to the people here. Do yourself a favor... Go here for your car. You will not regret it.
Mark and Dillion from the service team are always amazing and make everything seamless and easy!
Wishing I had switched to this Honda dealer for service many years ago! Their service hours are much better than most Honda dealers, including 8 to 5 on Saturdays. Instead of struggling to find an appointment that would work for me, they had multiple options for me to choose from, some within a few hours of my call! They provide Uber transportation to and from your home while waiting for your service to be completed. They have an excellent coffee bar with a barista to make whatever Frappuccino or cappuccino you prefer without charge. I'm moving farther away, but will continue to come to this location because of their service. Highly recommended!
Alex did a great a job communicating and explaining the cost of maintenance. He kept me updated about the status of my car and also offered me happy hour discount😊
The waiting room is nice with complimentary refreshments. My service advisor was right on with the time estimate for my service.
Had my car scheduled for serviced yesterday at First Texas Honda and upon arrival the service staff immediately checked my Honda CRV in to be serviced. I was assigned to Zachary and he was very friendly and informed me that the service would take approximately an hour and a half which it did. He was very professional and informative about what sevices my car needed. I was very pleased with the service and staff at the dealership.
Smoothest experience at a dealership to date :)
My service rep was spot on with me, courteous, new what he was talking about, no pressure whatsoever even upon suggesting future items needed done to my 2020 Civic. I'm from Wisconsin and this dealership should be the the dealership that others need to learn by! Keep up the righteous work as a public servant too all of us Honda gurus. In Christ all the way!! Shawn
So far, I can only speak to my experience at the point of sale and point of purchase and pickup, but wow, it was great! Shouts out to Cory and Manny. Cory saw me through the pre-sale and sale, and Manny saw me through the financing. Both were super helpful, honest, and personable. Just based on this so far, I would buy from here again. The dealership is super clean and modern, and their complementary cafe is great!
just bought my first car here and truly had a great experience. joseph was very kind and kept me informed the whole process. i was nervous buying my first car, but joseph and jack walked me through the process and i never felt any pressure from either of them when making decisions about the car and financing. haven't had a chance to experience the service side of things, but as far as car buying goes, first texas honda was a great experience!
I received professional and efficient work from the service department. Cody Penna was assigned to help me. The guy is a top tier individual with a strong work ethic. The service process was quick and painless, free coffee and a rental within minutes I almost didn't mind spending the money. Communication was excellent. Employees like Cody Penna reflect great on first Texas Honda. Based on my experience I know the management is doing a phenomenal job.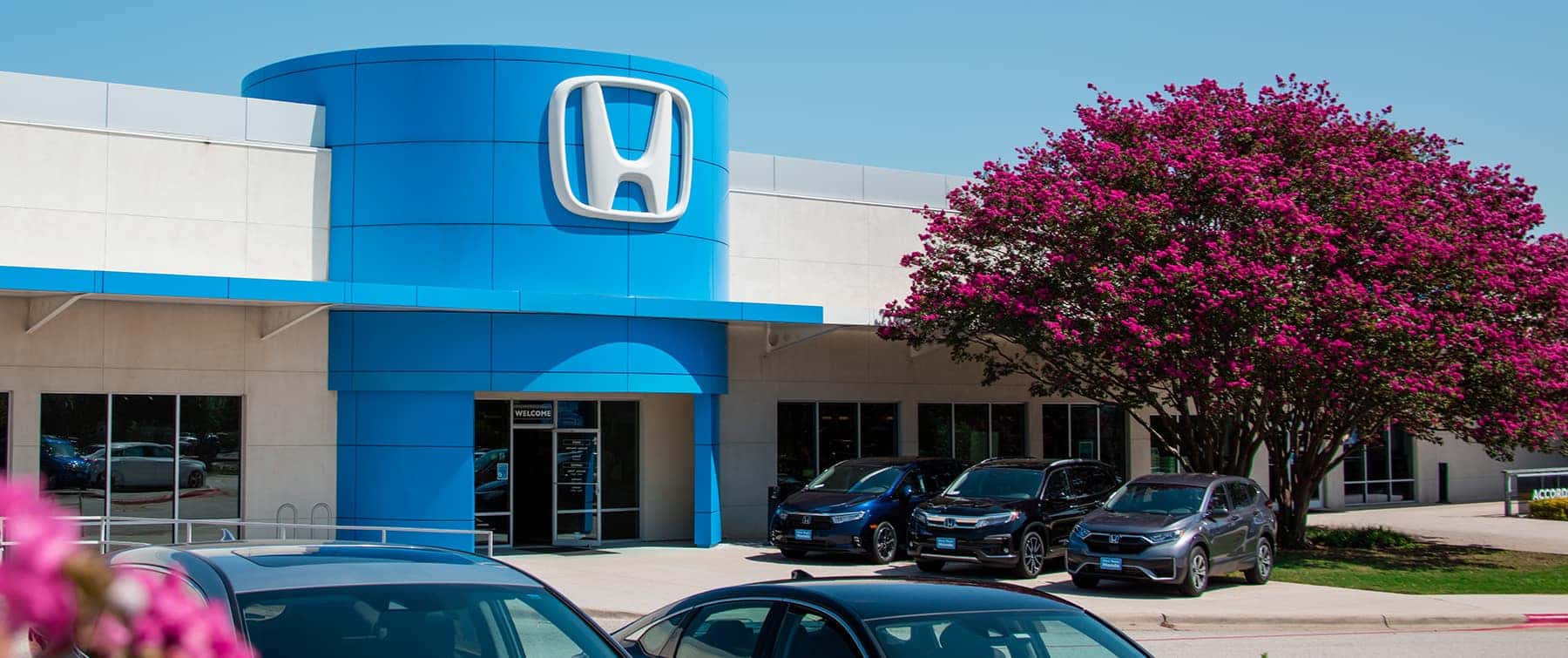 Welcome to First Texas Honda
When you want a dealership that sets itself apart from other car sellers with a hassle-free environment and perks galore, you can't go wrong with First Texas Honda. As one of the dealerships in Austin, TX, we put the customer experience first and foremost. That makes it easier for drivers in and around Austin, Round Rock, San Marcos, Cedar Park, and Leander to come to us for full assurance that their needs and desires will be our top priority.
Better yet, we maintain an inventory of hundreds of new Honda vehicles and used cars from Honda and other automakers; all at competitive prices and competitive financing, to boot. That competitive inventory pushes us to the top of Austin car dealerships, and a no-brainer when thinking of Honda in Austin. It doesn't start and end with the sale either, as we have a full-service garage meant to take care of every type of repair or maintenance you bring our way.
At First Texas Honda, we're home to FastTrack, a shopping experience that's fast, fair, and friendly. Our hassle-free pricing system gets you into your new car quickly; our fairness priority ensures that you get the most competitive prices and receive significant savings; and our friendly sales staff guarantees a pleasant, fun visit rather than a stress-induced interaction. Simply put, we're a Texas Honda dealer that cares about your buying experience.
This philosophy is exemplified in our shift from the term salespeople to product specialists. As a reliable car dealer in Austin, we aren't here to push a sale but rather to provide you with the information you need to make an informed, confident decision. Along with a plethora of additional benefits, cash offers on trade-ins, and potential help with the financing process, your time at our dealership will doubtlessly be well worth it.
With so many Austin, TX, dealerships to choose from, we know that a unique and trustworthy buying process is essential. Experience the First Texas Honda difference for yourself at 3400 Steck Ave. in Austin, TX, a short drive from Round Rock, San Marcos, Cedar Park, and Leander. Feel free to give us a call should you have any questions or concerns before visiting!
Get Directions To First Texas Honda